Christmas can be one of the busiest times of the year for our amazing partners, who will take every opportunity to practically and creatively share that Jesus is the reason for the season.  Here are some updates on their Christmas outreach activities…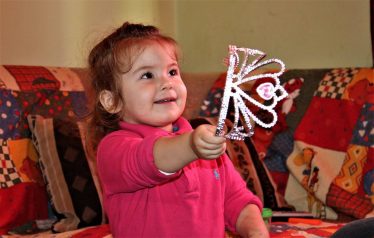 Monika Mahr, CASA Grace, Romania
"We were joined by a team from Keynsham Elim Church in early December, when we personally visited many needy families to deliver gift-filled shoeboxes and to pray with them.  We will also have a Christmas party at our Rehabilitation Centre where we run the Kingdom Kids programme. We aim to prepare 40 food parcels for the families we support on a monthly basis. This means that each family will enjoy a Christmas lunch."
Erion Cuni, Albania
"December will be full of ministry in our churches. Members will encourage their friends and relatives to come along to our Christmas activities. They will also give out invitations on the streets. Last year we visited 48 families in need and distributed gift-filled shoeboxes, which we plan to do again this year.
We hope to make the most of this opportunity as people are more open at this time of year and more receptive and understanding to what happens in our Sunday services."
Daniela and Nikola Atanasov, Bulgaria
"Last Christmas we prepared packages for children in two local villages which made them happy! They were full of sweets, stationery, warm hats, gloves, scarfs, socks and small toys. Needy families were given food packages thanks to the Harvest For The Hungry project. Out of this a new ministry in the church was started – services for the Bulgarians in the Gypsy village of Shishmantzi. Now we have a monthly meeting for them and we hope the impact of this ministry continues.
This Christmas we plan to spend more time and resources for the poor gypsy families with small kids. We hope we can give away warm clothes, food and some toys for the kids. We also intend to organize a celebration with some food. The children will start preparing the Nativity drama and we will provide gift-filled shoeboxes for them. We also plan to provide warm clothes and food for the poor elderly people in the village during the winter months. This is life-saving for most of them."
Roumen Ivanov, Mission Possible, Bulgaria
"Every winter we open the doors of the soup kitchen for the most vulnerable children from large Roma families, who have very little food sources during these long cold months. We also hope to be able to give to the poorest Roma children winter clothes and shoes. Though their families have many children, the clothes are not inherited from older children to younger ones. Most families have no running water and sanitation and the clothes do not last a very long time because of the dirt.
Children's parties are also a great tool for sharing the Gospel during this time. Pray for many children and their parents to come and to hear the good news! We believe that a new revival in Bulgaria can start from the children!  During all these Christmas activities we will be distributing our evangelistic magazine called Leah which features testimonies of divine intervention in the lives of believers. We pray this magazine will reach many women who are Muslims, bikers, drug addicts, prostitutes, and those are seriously ill in the hospitals – to prepare their hearts to meet with Him."